Back Again With Another Ballad...Told Ya'll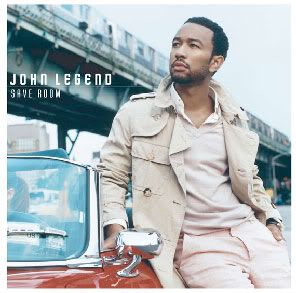 Just saw my prospectus John Legend perform his new song
Save Room
on the JC Penney's Jam on CBS! HE IS JUST TOTALLY AWESOME. So much talent. His voice is like...OMG... I can't describe it. I am just grinning ear to ear just listening to it. And isn't he just too badly hot looking on the cover of the cd above. So Hip and clean cut with his Marvin Gaye style soul-urbaness. And those pink pants... Love him Love Him Love Him. We need more intelligent brothers like this, not those other you-know whos. I'll definitely be in line for this album the day it drops and probably scrtach it all up with my over drive play. Anyways I dunno who he wrote the song for but J-honey I am still waiting for an 'Ode to Adaure'...can I request it to come in 'Igbo' too. Dawg...don't leave me hanging o. (Notice how Tayo is non-existent in the scope of things...Tayo Who? Right....she can jump into Lagos Lagoon abeg, i'll still continue my JL loving...lol)
I don't know if it is obvious by now that I have a thing for light skinned brothers. I cannot explain it but that's just how I have always been. Always crushing on the 'yellow paw-paws'. The darker berries that I have come accross don't just do it for me. It is very ironic because me I try to stay as black and proudly unadultrated but I still like some milk in my tea. Call me racist/self hating/prejudist but I guess it is the same way 'men' look for lighter skinned women that society has programmed my to prefer light skinned men and find my self more attracted to them before I notice the darker guy. Those ones have to really put in a lot of work to get my attention. But this does not now mean that I give them a free pass, they all have to work hard. Anyways I found another cute light skinned african brother that I can add to my list of 'Muses for my Perfect Guy'. I found this one on My space. Lol. Of all places and his name is
Patrice
. He comes by way of Sierra Leone through Germany and he is tres cutes in my book. I dunno about his music, a bit on the razz side but I like his style, very hippie-ish. Love it. I guess if I cut and paste features from John, Shemar and Patrice I can build my own computer generated light skinned brother. Lol. Ok I'll quit acting a fool now. Here's Patrice.
Speaking of light skinned brothers doing their thang in the music scene. Check out
Ade Bantu
of the
Bantu Crew
Read about Ade Bantu in the past in an issue of Ariztos magazine but I didn't get a chance to hear his music until the other night while messing around on myspace and I love it. See I had to join the my space band wagon because I wanted to see pictures of Nnenna, but now I just go there to listen to these independent musicians. You can tell by looking at my friends list which has grown from just 2 to I think 9 over night. Lol. I love this Afro-beat genre of music. I get upset when some people try to mess it up with stupid nonsense but I think Ade Bantu has done some justice to it, is fresh and has put some youthful vigour into it. Anyways if you have listend to his whole album let me know what you think.
Ok enough BSing around for one night. I've got love for all 'MAN' kind after all we are all God's kids and create din his own image. But right now I am going to sip on sime wine and hit the sacs. I'll be having a dream about John Legend in a white embroidered dashiki chasing me in slow motion in field of over grown yellow daisys and dandilions, after which he plays something for me on a ukelele while i twirl a daisy pulling out each petal and starring into his dreamy eyes....'he loves me'... 'he loves me not' .. he loves me.. he loves me not... HE LOVES ME!!!!! :-) (i think it's the wine guys)