Project Operation

Naija

December Runs
Kontri
People, I hope y'all are enjoying this labor day weekend and are safe where ever you are. Unfortunately for yours truly, I am sitting my butt at home here in Santa Maria and eating frozen dinner since I can't find a
barbecue
to crash. I had planned to go to San Diego to see my friend who is about to drop one '
atootoo
-
poyoyo
' but I decided against that because of some projects at hand. By that I mean this long anticipated trip to Nigeria in December. I am seriously SAVING for my ticket because as I see it, it will cost me up to $2500 on economy class just to transport myself to Lagos from Santa Maria. Not to mention the lost wages considering that I will be taking more days than my vacation time permits if I am approved. And then when I do land Lagos me and 'my peeps' have some other possible 'runs' on the agenda by way of Ghana, Kenya or SA by the grace of God (I'll probably just end up at Badagry or Seme Border...last last Cotonou in neighboring Benin Republic...lol) . Otherwise I will make do with my village and may be a trip to Port Harcourt or Abuja. We shall see how things shape up
sha
. No more LA runs because that means that I will be spending. So as it is Addy is roasting in Santa Maria and being a 'housewife'. I hate looking for parking so I am avoiding the beach as well. But
I'll
be
aight
, I'll just watch 'Diary of a Mad Black Woman' for the 3rd time and do some writing if I am inspired.
Addy on West Nile Virus Watch
Who would have thought that in America one would be more afraid of a mosquito. So I woke up this morning around 10am. I usually wake up at 6am but my sleep was
interrupted
by a phone call. Funny how people have pillow prattles they don't remember by morning. I had to check my phone just to make sure I hadn't dreamed the whole thing considering how my mind wanders. Air time used during this conversation that consisted entirely of snoring and breathing... 52
mins
. I digress. Anyways why did I wake up to a fat Anopheles Mosquito flying in my room.
YEEPAA
!!!! I freaked out o. Some of you will say, chill out it is just a mosquito. While that is the case, the same disease that the
mosquitoes
in
America
carry is not the same as the ones in Africa o. I would rather catch malaria than West Nile
biko
. That is why
every
morning when I step out of my door I usually run or walk fast to my car so that the
mosquitoes
outside don't cling to my clothes and bite me. Also lately some people and animals in the area have been found and diagnosed with
WNV
. Addy
ain't
trying to catch it too. So I got my raid and started flitting the whole house. Chances were that if one could find its way into my room there must be others flying
around
the house some where but I am sure they are all dead by now because that spray kills instantly.
Daryn's Wrap,

Kyra's

Recovery
Another one of my favorite people on CNN,
Daryn

Kagan
wrapped up her stay at the network on Friday. It was a very teary farewell. Daryn's been on CNN since 1994. Her first TV job was in the Santa Barbara market at the ABC affiliate. Daryn will still be reporting but for her website
DarynKagan

.com
. Will miss her in the mornings BUT I hear another one of my favorite people on CNN,
Tony Harris
, will be co anchoring with
Heidi Collins
. Cannot confirm that but we shall see next week.
Meanwhile Ms.
Kyra
Phillips is still shining and holding her head high despite the bathroom break mic snafu last week that made her the butt of many jokes. She was on the Letterman show the other night and making good humor out of the situation. The pros don't let the hazards of the job get to them...

Addy Needs Help Shopping
So I am looking for a nice affordable pair of BANGING peep toe animal print platform shoes or wedges. Preferably Leopard print, but not too hot about Zebra just yet. I have this outfit in my head that I am trying to put together but all that's missing is the right pair of shoes( and matching clutch or granny bag) to bring it to life. As in I am getting a headache just thinking about it.
I found this pair made by Guess for $100 at
Zappos
which I'll probably end up getting because of the price but it is not exactly the right animal (this is cheetah).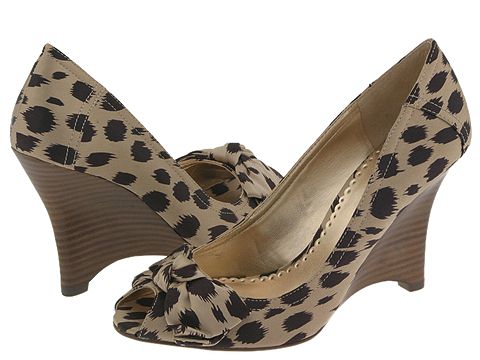 And this one by Steve Madden for $115 comes a bit close but it is not peep toe and secondly I am not sure which animal skin that's supposed to be. Kinda sketch but I am sure it'll still look fab on my feet.
My inspiration shoe is this one by Christian
Louboutin
. I am drooling just looking at it. Found it on
Saks 5

th

Ave
but it costs an arm and a leg at almost$900 which is like rent money. am sure some of you can cough up that kind of money to buy that, but BIKO find Addy the knock off brand some where because I refuse to be a homeless woman in nice shoes.
Lol
... this is where some Chief Senator or 'Mr. Bentley' could come in handy but Addy don't roll like that because that one
na
money for hand back for ground kind moves. So again, if you see a knock off brand of this shoes somewhere or know some one at Saks that gets 75% off discount DO
HOLLA
AT A
SISTA
ABEG
.
This is the junior brother at
Bergdorf

Goodman
for almost $800...which one's cuter (not like
I'll
buy either...
lol
)
By the way let me just find anyone of you wearing 'my shoe'
ehn
I will cut off your leg sharp sharp.
LOL
... just
kidding
, but seriously don't go and buy it o otherwise we will fight. :)
ADD:
Here's the pics of Christina Aguilera in the 'Loubous' as PSB calls it. Found it on Celeblife.com. They look fabulous and according to the website they're sold out everywhere. I guess there'll be none left to go on sale for Addy...lol...again na who get deep discount.